HW Capabilities
AgileAccess™ Hardware Development capabilities are presented around the generic systems diagram shown below, building blocks including:

i) (Media) Interfaces

ii) Core Function (Controller; Signal Processing),

iii) Network Interface.

The generic Systems description applies to Communications Systems and Control Systems, while media includes Wireless, Optical (Fiber-Optic or Free-Space), and Copper (Cable or Twisted-Pair).

Back-end network interface options vary from standard 10/100-Ethernet to Gig-E or other Serial. Other blocks are elaborated below along with SoC, FPGA, VHDL Synthesis and more.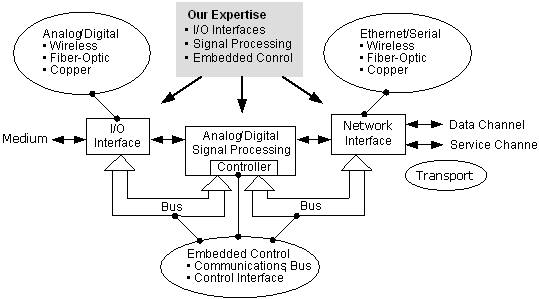 AgileAccess™ has offered Analog Design from start; for example Radios for wireless, Analog Front-End (wideband EO Converters) for Fiber-Optic RF Transport technology for Outdoor DAS (Distributed Antenna System), and wideband circuit blocks for GYRO controls. Standard designs as in the past, would include back-end A/D Converter devices handing-off to a DSP on the Digital Board.

AgileAccess™ has grown its capabilities to include the state-of-the-art Digital Design technologies, to better serve customers with one-stop hardware design service needs. However, customers looking for stand-alone Digital Design solutions (SoC) are also welcomed. Standard designs including State Machines, dedicated Processors and SoC solutions; stand-alone or end-to-end Analog Front-End (FE) with back-end Digital Processing; such as Digital Modem in Radios for wireless, and embedded Ethernet I/O modules for twisted-pair (TP), or DSL modules, will be available.

<< more on VHDL >>

Digital design followed by VHDL programming and FPGA synthesis, is in various stages of deployment for complete in-house end-to-end service available on Altera platform; QUARTUS design, simulation (verification) and synthesis tools. Verification Tools from other vendors are in evaluation and training in progress.

AgileAccess™ continues to grow in Digital Communications particularly Bus Communications: from on-Board SPI, CANBUS to MODBUS/PROFIBUS for Industrial Control; including product development for example: Safety-Switch component for AS-I, a European industrial bus protocol; was developed for a major US industrial controls vendor. --www.as-interface.net

<< more Industrial_Control >>