Integrated Solutions
AgileAccess™ within the vertical markets segment, was the first to offer:

Integrated (Technology-Services) Solutions in the form of a scalable common transport platform supporting multiple (--enhanced) bi-directional services between customer Point-of-Presence (PoP) in the business center, and a remote monitoring station (MS) or home office.

The Franchisee System features included:

- CCTV w/Cash Register Interface --see fig below; display cash register data on the screen

- Wireless (--WiFi; and Audio)

- Alarms (intrusion) flowing in the down-link (DL) PoP-to-MS

- Reverse Data-Channels (or UL;) from MS-to-PoP for

- Access Control,

- HVAC and other (Smart Kitchens) equipment control.

The various features in turn, could be monitored and controlled from a remote site (MS) such as home office, over the standard (DSL) internet connection.

AgileAccess™ differentiated itself from the competition by offering:

ISP contact on behalf of customer for Service

Configuring the Network Interface Router (CPE)

Configuring Cash Register (Serial Port); and Cash Register Data-Interface

Tiered Service Contracts,

Equipment Repair where possible. Examples: DVR, Circuit Board failures, Power Supplies, Cash Registers (Serial Interface Cards) and more.

Customers were allowed to grow system by adding more features over time.

AgileAccess™ was also the first to offer Integrated Services Network for the Franchise Corporate. --contact for details.
<![if !vml]>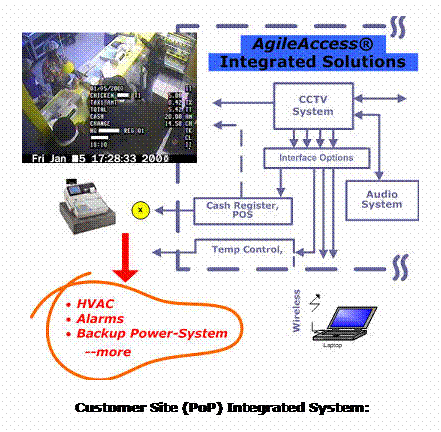 <![endif]>